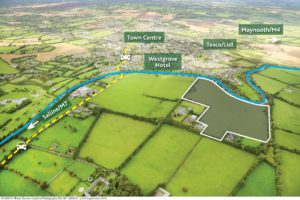 Coonan Property recorded a sale of land sale by Public Auction yesterday (12th April 2019) where 31 acres of farmland made €550,000, just under €18,000 per acre.
The auction was extremely well attended with a packed auction room and the opening bid was €300,000. The bidders proceeded in €5,000 – €10,000 bids to a figure of €530,000. After a short interval the property was placed on the market and eventually sold at the final bid of €550,000.
It was an exciting auction with 5 bidders entering the fray throughout the proceedings.
Will Coonan commented after the sale that in his opinion the land is in an excellent location adjacent to all facilities and was a really unique opportunity to acquire a piece of property with long term potential in a much sought after area of Clane.
Niall P. O'Neill Solicitors, 35 South Main Street, Naas acted for the vendor.
For further information please contact us on 01 – 6286128 or willc@coonan.com