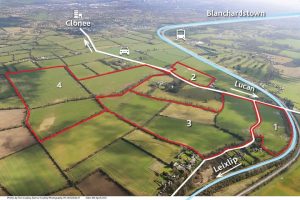 Coonan Property Maynooth have recently completed the sale of c. 183 acres Non-Residential lands in the Leixlip/Lucan area.
This property is zoned agricultural but due to its location it is reasonable to assume at some future date it will attract development opportunities.
The property is located on the Lucan/Clonee Road approx. 2 miles Lucan/Leixlip, 4 miles Clonee.
The guide price quoted at time of sale was €30,000-€50,000 per acre and whilst the agent did not disclose any sale price they did confirm it had been sold at a level nearer the higher price.
The property attracted considerable interest and the agent said the sale confirmed the further strength of the property market particularly in the Greater Dublin Area.
They mentioned they had other under bidders looking for similar type land.
It was purchased in trust by a Dublin Solicitor and the solicitor acting for the vendor was Robert Dore & Co., 2 Citygate, Bridge Street, Dublin 8.